Infernal Guardian
Infernal Guardian is ready for battle

Information

Health
21,300,000
Attack
2068 - 3102 (20680 - 3102)
Special
Barrier: Immunity to all status effects

Damage Increase: Damage increases tenfold Blind and Bleed indefinitely
The last boss in the game. Beating this boss will allow you to start a New Game+ where you can choose Normal or Inferno difficulty. Everything is kept from the previous difficulty when transferring over to a new game, including tavern levels, mats, and your (upgraded) wardrobe.
The boss (Class: Titan) can have multiple boss-like properties, e.g. Lock meter, thorning, etc., but these can change upon each engagement with the boss. Therefore, it is possible for you to run away to change what he will use against you.
Additional Images
Edit
These were taken on Classic(non-inferno), lvl 300, and with a lvl 20 Turtle Garb.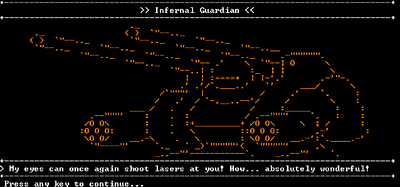 2. Stats for the Eternal Guardian on Classic (Inferno), Monster Power Lvl 5, Turtle Garb lvl 20, Stage 3/4
3. Stats for the Eternal Guardian on Classic (Inferno+), Monster Power Lvl 5, Turtle Garb lvl 20, Stage 3/4