The Doctor
The Boss is ready to fight.

Information

Health
16000
Attack
113 - 169
Special
[DECIMATION BAR]
The Doctor Is the third boss you will encounter. He is encountered at the Rusted Gate.
Because he has HYPERTRAMPLE,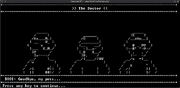 you will want to heal often. 
After you will gain a soul shard and you will be greeted by a wizard that will grant you new discipline, you will have a few to choose from.
Ad blocker interference detected!
Wikia is a free-to-use site that makes money from advertising. We have a modified experience for viewers using ad blockers

Wikia is not accessible if you've made further modifications. Remove the custom ad blocker rule(s) and the page will load as expected.